WOMEN OF MARVEL #1 is out today, including a short story I wrote featuring Misty Knight! Artist Kei Zama and I followed Misty as she stumbled upon a mystery on an average Saturday morning in Harlem. In this 52-page extravaganza, we join a host of other creators to deliver 13 stories featuring some of the best characters Marvel has to offer. Here's the blurb:
WHO RUN THE WORLD? YOU ALREADY KNOW. CELEBRATE THE WOMEN OF MARVEL WITH AN EXTRAVAGANZA OF EXTRAORDINARY TALENT! The future is female! Get in on the ground floor with this amazing assembly of writers and artists from all over entertainment. Comics legend Louise Simonson kicks things off with a must-read introduction! Nadia Shammas punches the glass ceiling with the Jade Giantess! Elsa Sjunneson grits her way to the front line with Captain Peggy Carter! Sophie Campbell goes feral with a bone-grinding Marrow story! Video game-and-comics writer Anne Toole (dat me!) makes her Marvel debut in a blaze of glory! Natasha Alterici of Heathen fame charges sword-first into the Marvel Universe! With astonishing art from new and established artists Kei Zama (Transformers, DEATH'S HEAD), Eleonora Carlini (Go Go Power Rangers, Batgirl), Skylar Patridge (Resonant, Relics of Youth), Joanna Estep (FANTASTIC FOUR, Fraggle Rock) and more, you're sure to come away powered up and ready to slay—in high heels and boots alike.
The comic boasts a number of alternate covers, including one from Peach Momoko (see above), who also did alternates for HORIZON ZERO DAWN. If you're curious about WOMEN OF MARVEL #1, check out the motion comic trailer! Plus, get a preview of our story on the jump.
And here's an art preview for Misty Knight in "A Saturday Morning in Harlem"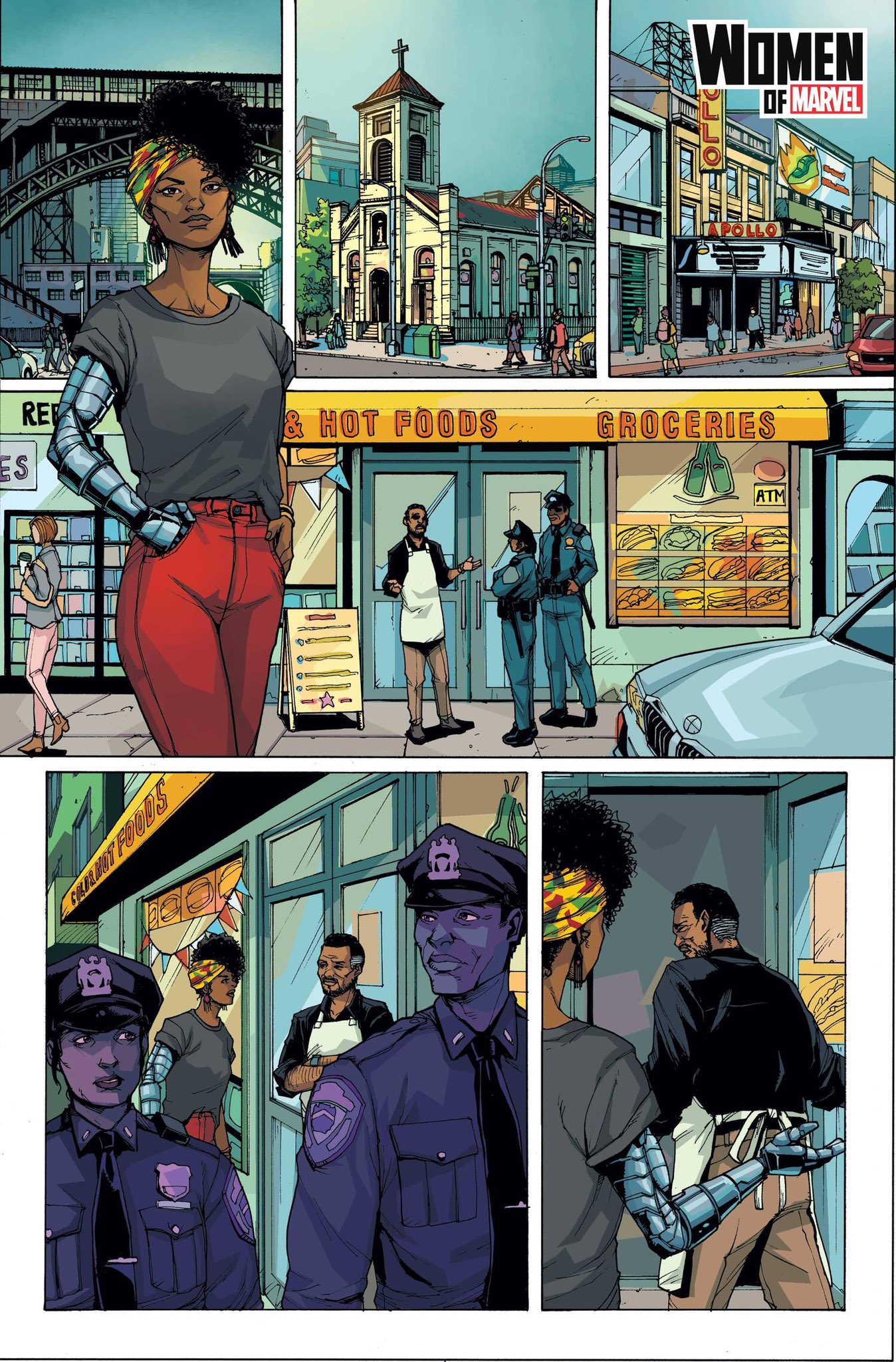 So hop on over to your LCBS (local comic book shop), pick up WOMEN OF MARVEL #1 today, and make yours Marvel!