The all-ages comics anthology, Cthulhu is Hard to Spell, has only days to go before it disappears off Kickstarter fo'evahhh!** The anthology, to which I contributed a short comic story, funded in a little over a week of its launch, but it's still going strong with over $30,000 raised. Boasting 35 stories in the Cthulhu mythos, the book will definitely wing its way to you if you decide you want a copy, or a pin, any number of other fun or useful backer gifts. In addition, if you kick in for even a dollar, you'll earn a bunch of digital comics that unlocked after we met each stretch goal!
With only days to go, you may want to head over and get yourself a physical or digital copy of Cthulhu is Hard to Spell before you forget. The end is near!

My contribution to the anthology is dedicated to everyone who had to travel far and wide to find their people. If you'd like a preview of the short story I wrote, with art by TEEN TITANS GO's Lea H. Seidman, here be: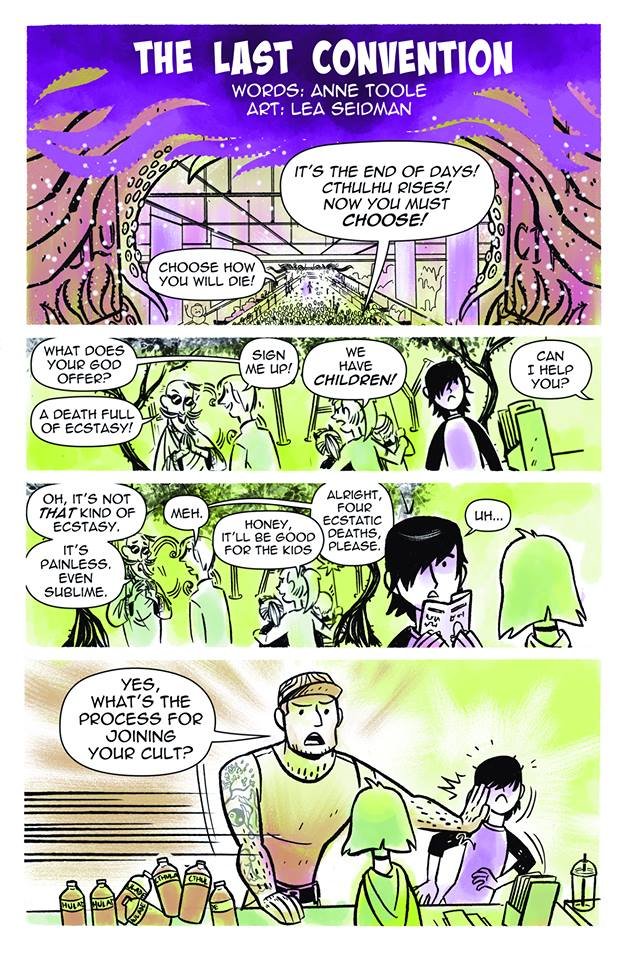 The Kickstarter ends Thursday evening Pacific time, so grab your Cthulhu is Hard to Spell anthology before it's too late!
**UPDATE: The Kickstarter is over and successfully funded, but you can still order a copy here on Indiegogo!